Being & Time official website(English)

Last updated on January 31,2021

1st ALBUM
"BEING & TIME"
NOW ON SALE!!!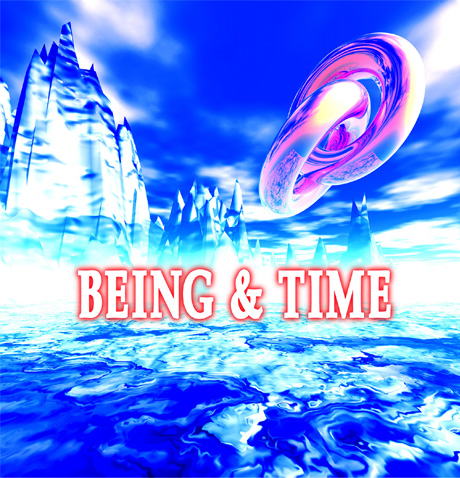 Musea Parallele (MP 3087.AR)

【NEWS!!】 This album is nominated to Best Debut Record of ProgAwards 2009!!

A spectacular sound that opens "the doors of perception" of the 21st century!
You will finally find that the ultimate successor to British progressive rock is in Japan !

by Hiroyuki Namba (Sense Of Wonder/Professor of Tokyo College of Music)

BEING & TIME is a present Nippon duet, made of a bass player and a guitarist-keyboardist.
Jointly published by the Musea and Poseidon labels in the year 2009,
the first self-titled album offers a brilliant Progressive jazz-rock,
in the vein of KENSO, YES, UK or Allan HOLDSWORTH, with KING CRIMSON hints
in the most experimental sequences, without mentioning an electro flavour here and there...
That music is lively, powerful and intense, showcasing aggressive riffs,
incredible guitar soli, a roaming bass and a handful of complex and syncopated rhythms.
These ten instrumental pieces, concise and well-structured,
avoid all the cliches of jazz-rock's tour-de-force and self-indulgence,
concentrationg on offering a melodious and colourful musical journey.
Here's certainly one of the best new Japanese Progressive rock bands around !

by MUSEA RECORDS

This album is reviewed in the site "New Gibraltar Encyclopedia of Progressive Rock" .
This album is introduced also on site "ProGGnosis" in the United States.

How to order this CD !!








New Gibraltar Encyclopedia of Progressive Rock

Being & Time is a Japanese duet consisting of Fuyuhiko Tani playing guitar, guitar synths and keyboards, and Hiroshi Tsukagoshi on bass guitar.
Tani is also a Ph.D. psychologist and associate professor at Kobe University, while Tsukagoshi is an M.D. anaesthesiologist.
But if that makes you think that Being and Time might be new-agey relaxation music or something,
don't give it a second thought. This is fusion, very much along the lines of Bruford or the first UK album,
both of whom are acknowleged as influences by the band.

Perhaps the oddest thing about the band is, despite sounding like two bands for whom
Bill Bruford was the drummer, this band has no drummer. That's not to say there's no drums,
but these appear to be programmed drums, though whether on a fancy drum machine or using a computer is unknown.
But I must say they're some of the best programmed drums I've ever heard,
and if I hadn't seen their YouTube videos of just the two of them performing,
I'm not sure I would have realized this wasn't a band with a real (and real good) drummer.
While this renders their live performances (which I've only seen on YouTube) a bit on the flat side,
it doesn't detract from the quality of their debut CD in the least.
In fact, the CD is an album of excellent instrumental fusion,
and deserves the attention of anyone who likes Bruford, UK or Allan Holdsworth.

by Fred Trafton


A movie of the "Hell's Bells"of"Bruford" uploaded recently. We played in 2009.
Please see our Live Video!!
↓


Being & Time, Feb. 2, 2020,LIVE in TOKYO
Please see our Recent Live Video!!
↓


Please see our Live Videos of YouTube!!!
↓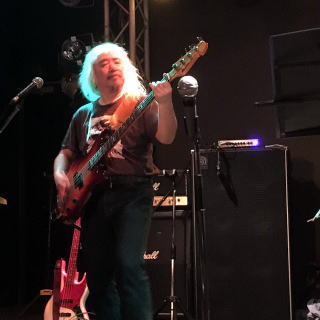 Fuyuhiko Tani (Guitar)               Minoru Suwabe (Bass)


※A bassist changed with Minoru Suwabe from Hiroshi Tsukagoshi in January, 20,2020.


Please click here to send a e-mail to us.