1st ALBUM
"BEING & TIME"
NOW ON SALE!!!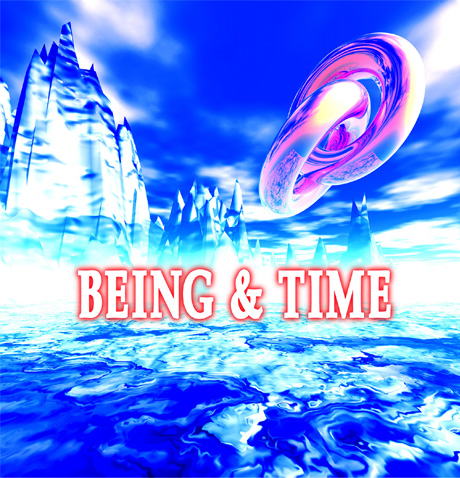 Musea Parallele (MP 3087.AR)

【NEWS!!】 This album is nominated to Best Debut Record of ProgAwards 2009!!

A spectacular sound that opens "the doors of perception" of the 21st century!
You will finally find that the ultimate successor to British progressive rock is in Japan !

by Hiroyuki Namba (Sense Of Wonder/Associate Professor of Tokyo College of Music)

BEING & TIME is a present Nippon duet, made of a bass player and a guitarist-keyboardist.
Jointly published by the Musea and Poseidon labels in the year 2009,
the first self-titled album offers a brilliant Progressive jazz-rock,
in the vein of KENSO, YES, UK or Allan HOLDSWORTH, with KING CRIMSON hints
in the most experimental sequences, without mentioning an electro flavour here and there...
That music is lively, powerful and intense, showcasing aggressive riffs,
incredible guitar soli, a roaming bass and a handful of complex and syncopated rhythms.
These ten instrumental pieces, concise and well-structured,
avoid all the cliches of jazz-rock's tour-de-force and self-indulgence,
concentrationg on offering a melodious and colourful musical journey.
Here's certainly one of the best new Japanese Progressive rock bands around !

by MUSEA RECORDS

This album is reviewed in the site "New Gibraltar Encyclopedia of Progressive Rock" of the United States.
This album is introduced also on site "ProGGnosis" in the United States.

How to order this CD !!







And also, this album is reviewed by the very major review site "BARKS" of Japan.

"Being & Time" is an excellent progressive rock band.
It can be confirmed in the CD about "the true progressive music", the techniques, and the sound quality.
I'm surprised that "Being & Time" succeed to UK, and construct the sound similar to UKZ.
The sound in which the electro is introduced is a sound in which UKZ is exactly reminiscent.
It is shown that they are accomplishing evolution (progress) in the direction similar to UK.
Especially, it can be said that their being advancing in the same route
as the evolution of UK and UKZ will appear frankly though their "Led" might be a coincidence
agreement with a very similar riff "Radiation" of UKZ when guessing at the release date.
The album "Being & Time" is one for the person who likes UK or UKZ, BRUFORD, and Allan Holdsworth.


Please see our Live Videos of YouTube!!!





        
Fuyuhiko Tani (Guitar)               Hiroshi Tsukagoshi (Bass)
(Ph.D.(Psychology)/Associate Professor of Kobe University)  (M.D.(Anesthesiology)/Anesthesiologist)




MySpace of "Being & Time"
Please enjoy our music and videos!
↓